Title
The HandStand - Hand Sanitizer Dispenser Stations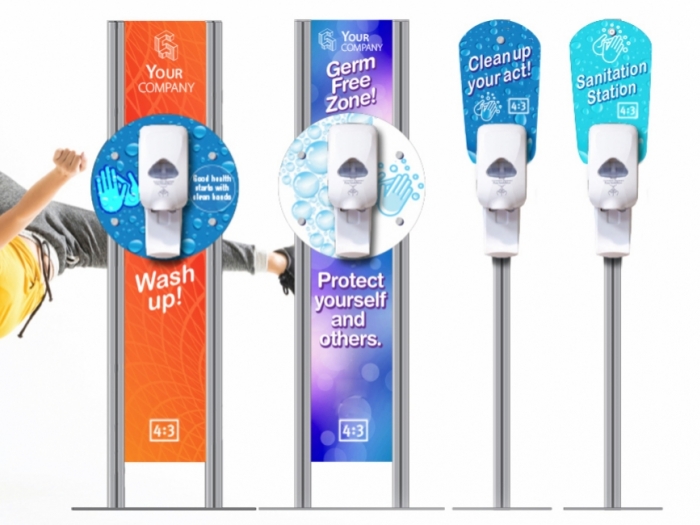 In response to the recent COVID-19 concerns, we partnered with 4x3, LLC to offer custom hand sanitizer dispensers for businesses looking to promote a clean and healthy workplace.
ADA compliant, touch-free, trouble-free dispensing
Each individual dispenser model is 5 ft. high with a base of 15x15 inches. And with the dispenser centrally placed, the design offers touch-free, trouble-free dispensing. Each hand sanitizer station is ADA compliant and has a lifetime guarantee (the dispenser has a 1-year limited warrenty).
The purpose of branded hand sanitizer stations, rather than just standing dispensers, allows business owners to showcase their company, a corporate sponsor, or local charity to customers and employees.
Dispensers are easy to assemble, available in multiple styles and models, and offer a refillable bottle that works with any hand sanitizer brands.
Each order is custom made. Request a quote today »
Collaboration: ExhibitorEase and 4x3
4x3, LLC is a digital agency and design studio located in suburban Philadelphia that provides creative solutions for corporations, small businesses and non-profit organizations. With their talented team of designers, 4x3 has collaborated with us to create hand sanitizer stations. Intended for store-front businesses, high-traffic public spaces, office buildings to enable a healthier environment, employers now have the freedom to move and position a disinfectant dispenser where it's needed most.