Title
Morningstar 35th Anniversary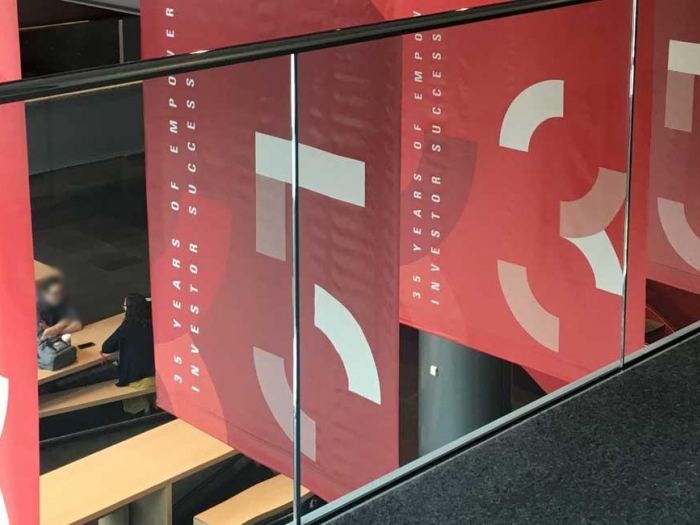 As Morningstar celebrates 35 years of empowering investor success, we were given a wonderful opportunity to help them dress up their celebration at their headquarters and offices around the globe.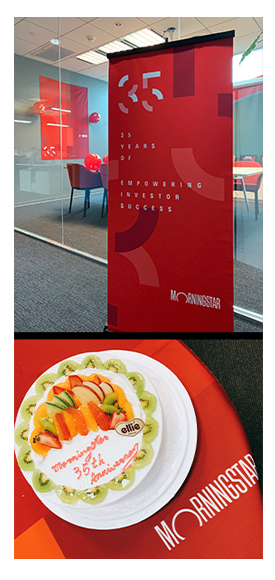 To help with the celebration, Morningstar wanted to make a BIG impact at home, and a BIG impact they made with eight beautiful large double sided trapeze style Hanging Banners for their main Community Area at their corporate headquarters in Downtown Chicago.
Each banner is 60" wide x 126" tall with a hidden trapeze style hanger bar and hidden weighted bottom pole to keep the banners straight and taught. To assure everything was hung properly we sent out a local expert to consult with Morningstar's Facilities Manager to assure the installation went without a hitch.
In addition to the large hanging banners, Morningstar wanted their global offices to share in the celebration. We were commissioned to produce 34 custom retractable banner stands along with 44 table runners with the 35th Anniversary branding that were shipped to their various offices around the globe. We also produced one large 173" wide x 90" deep seamless table cover for the big party table at their corporate headquarters.
Morningstar RED is critical to their brand so extra steps were taken to make sure the colors were spot on. Our Color Management Team produced proofs of the supplied art that also included swatches with subtle color variations to assure and exact match. The materials used for the hanging banners, banner stands and table covers were all different so our Color Team made sure everything was cohesive.
Our friends at Morningstar couldn't have been happier!  "Thank you so much, Wade! This is such an incredible service you've provided us to make sure we get the banners ready for Saturday. We are so thankful to you." - "I want to echo Justin and say THANK YOU for helping us create these items for the anniversary celebrations! We've received so many compliments. People love seeing the anniversary branding in new and unique ways. Thank you again for all of your work and for being such a pleasure to work with!"