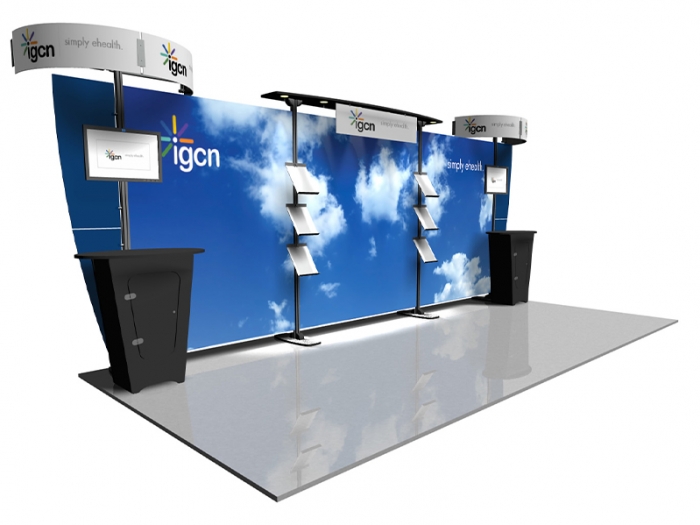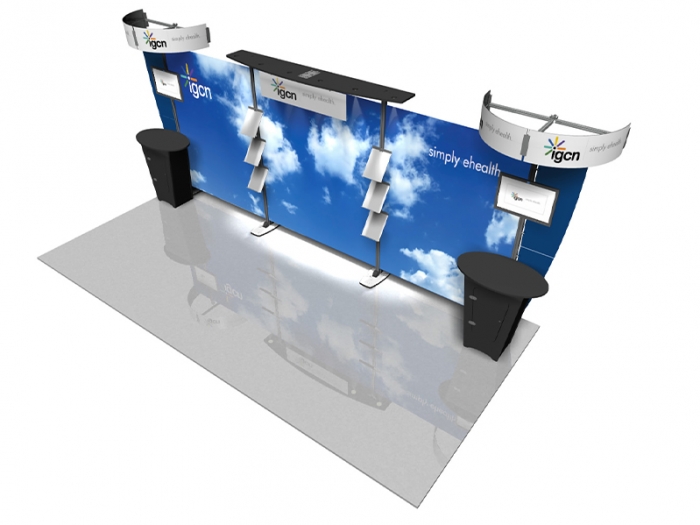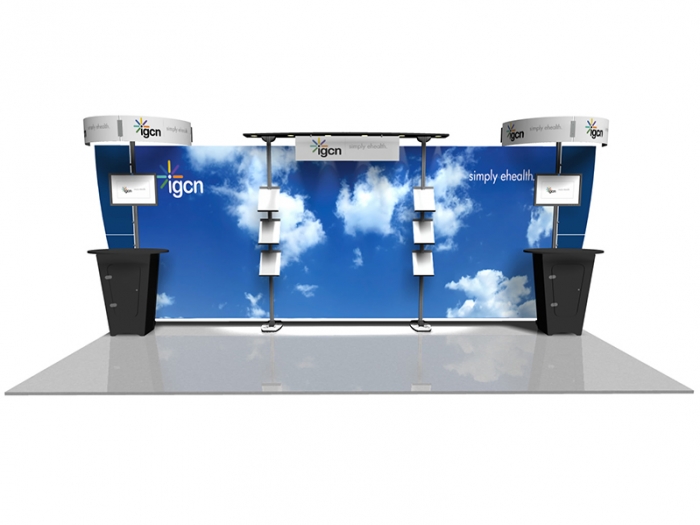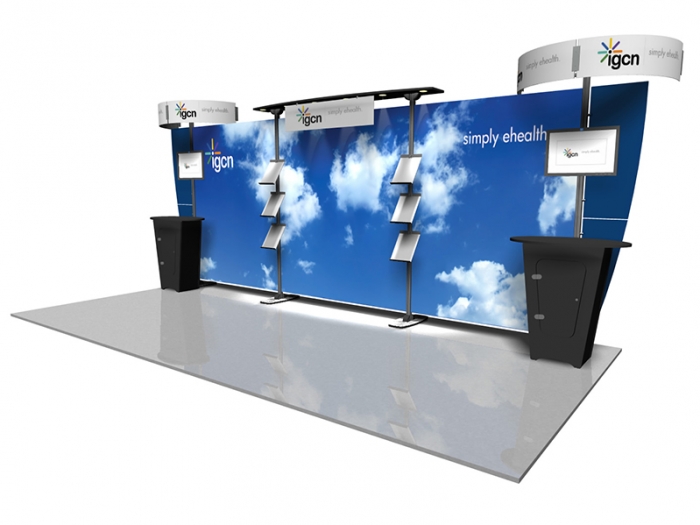 The Exhibitline model 1020.1.NCL1 is a cutting-edge exhibit design with hybrid construction making it the ideal design solution for any trade show or event. The display features two locking counters and unique half canopy header graphics on each end of the display.
Exhibitline products are tool-less, portable, designer exhibits for todays display demands. Featuring a printed graphic header, Dye Sublimation Graphics, wing panels, and a stand-alone reception counter. Display packs into two hard shipping cases with wheels.
Product Features
1020.1.NCL1 Exhibitline 20ft Inline Hybrid Display
Canopy w/Six Preinstalled Halogen Lights
Two Piece Printed or Frost Wing Panels
(3) Large Format Tension Fabric Graphic
(2) Ellipse Top, Locking Door Counter with (2) Internal Shelves
(2) Extrusions Mounted LCD Monitor Mounts
(1) Header Graphic -- Sintra or Plexiglas
(2) Two-Piece Wings -- Sintra or Plexiglas
(2) Monitor Mount (22" Monitor Maximum)
(3) Roto-molded Cases with Wheels
(6) Extrusion Mounted Literature Holders
(2) Half Canopy Header w/Graphics
Durable & Lightweight Extrusions
Set-up in 60 Minutes
Fits in Three 45.25.T Roto-molded Case w/Wheels
Optional: Extrusions Mounted iPad Holders
LED Backlit Option Available
Lead Time: 3-5 Business Days
Specifications
Display
Dye-sub Fabric Graphic: 70.75"w x 82"h x1, 60"w x 82"h x2
Printed Header Graphic: 47"w x 11"h
Printed Half Canopy Headers: 38"w x 11"h x4
1-3/4" Aluminum Extrusions
Backwall Weight: 149lbs
Shipping Weight w/Case: 190lbs
Required Cases: Two 48.25.T
NLC1 Counters (2)
Size: 36"w x 22"d x 38.5"h each
Shelf Demensions: 11.5" x 16.75", 11.5" x 20.625"
Weight: 40 lbs. each
Shipping Weight w/Case: 60 lbs. each
Cases (3)
47" x 23.5" x 7" inside dimension
50" x 28" x 10" outside dimension
Telescoping Top
Rollerblade Style Wheels
Collapsing Metal Handles
Empty Weight: 28 lbs.
Artwork Templates
Add-Ons