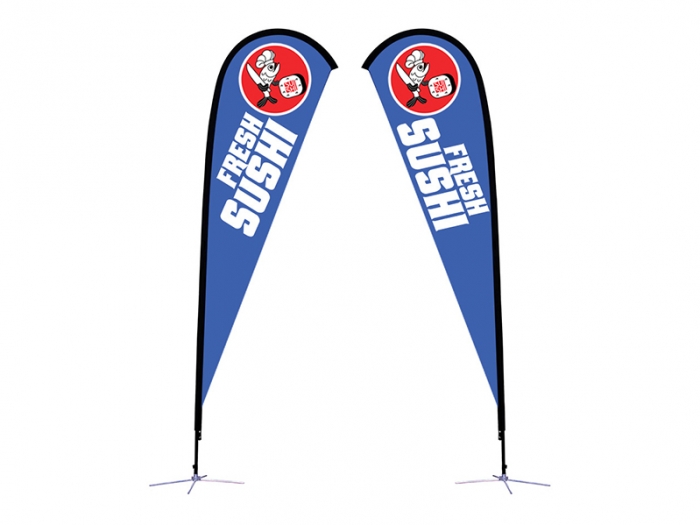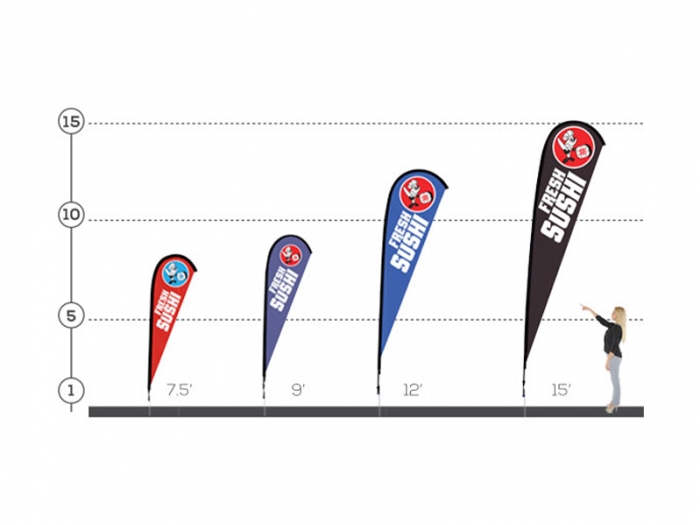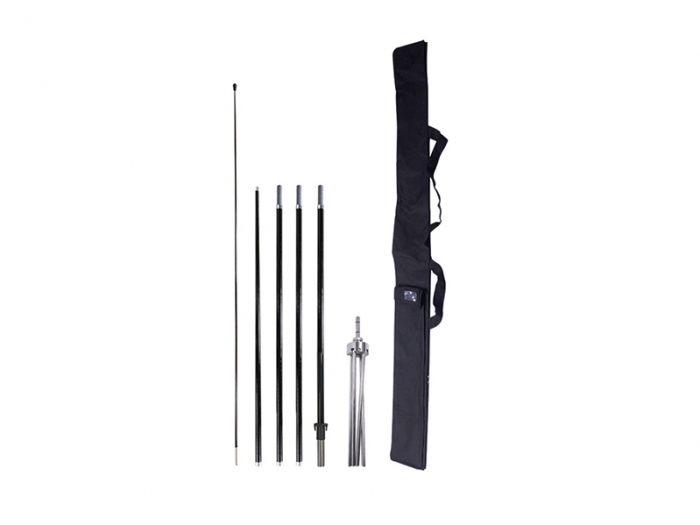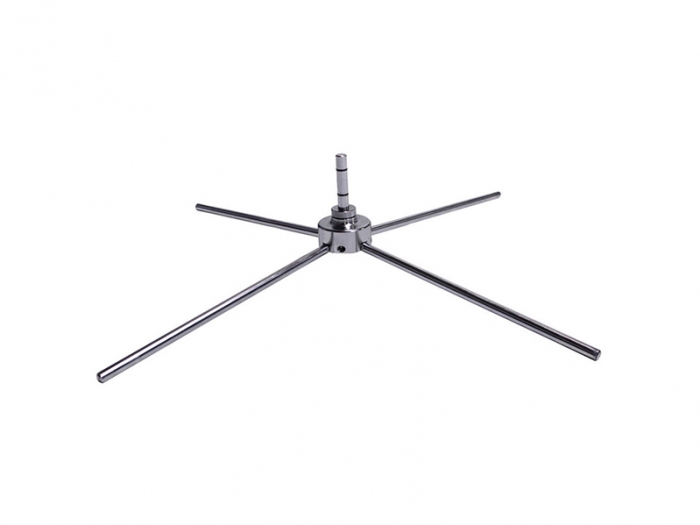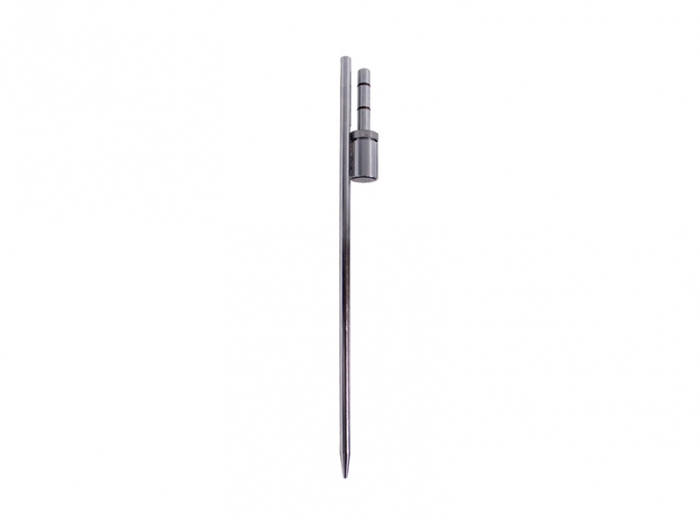 Introducing the Sunbird Flag, our newest teardrop shape flag that is produced using the same exact materials as our Best Seller Falcon Flag. Perfect for quantity orders, this new flagpole hardware is the economical choice. Plus, its pole connections give height options. 
Sunbird Flag comes in these four heights: SM (7.5'), MD (9'), LG (12'), XL (15'). Sunbird Flag is intended for display outdoors. Insert the spike base into grass or use the X-base to stand on concrete. We custom print your graphic artwork on polyester mesh by the process of dye sublimation. 
Our inks heavily saturate the material to create a "bleed-through" effect for our single-sided prints, and double-sided prints are finished with a silver-gray blocker that lays between. Black flag trim is sewn on the edge of the graphic (pole-side), leaving a pocket for pole insertion. A set of grommets are installed on the bottom of the trim in which the short bungee cord (included) can loop through and snugly attach the graphic to the base.
Product Features
Lightweight, Portable and Easy to Assemble
Choose Graphic on One Side or Both Sides
Hemmed All Around
Pole Pocket on Stand Side
Blockout Fabric Sewn Between 2-Sided Banner
Polyester Printed Fabric
Includes
Poles
Cross Base or Spike Base
Travel Bag
Elastic Cord
One Year Warranty
Specifications
Small
Wind Speed Rating: 18-23 mph
Graphic Dimensions: 24"w x 82"h
Graphic Material: Mesh Fabric
Print Process: Dye-Sublimation
Warranty: One (1) year on Graphic Banner; Lifetime on Hardware
Medium
Wind Speed Rating: 18-23 mph
Graphic Dimensions: 33"w x 97"h
Graphic Material: Mesh Fabric
Print Process: Dye-Sublimation
Warranty: One (1) year on Graphic Banner; Lifetime on Hardware
Large
Wind Speed Rating: 18-23 mph
Graphic Dimensions: 41"w x 120"h
Graphic Material: Mesh Fabric
Print Process: Dye-Sublimation
Warranty: One (1) year on Graphic Banner; Lifetime on Hardware
X-Large
Wind Speed Rating: 18-23 mph
Graphic Dimensions: 45"w x 159"h
Graphic Material: Mesh Fabric
Print Process: Dye-Sublimation
Warranty: One (1) year on Graphic Banner; Lifetime on Hardware
Artwork Templates
Add-Ons