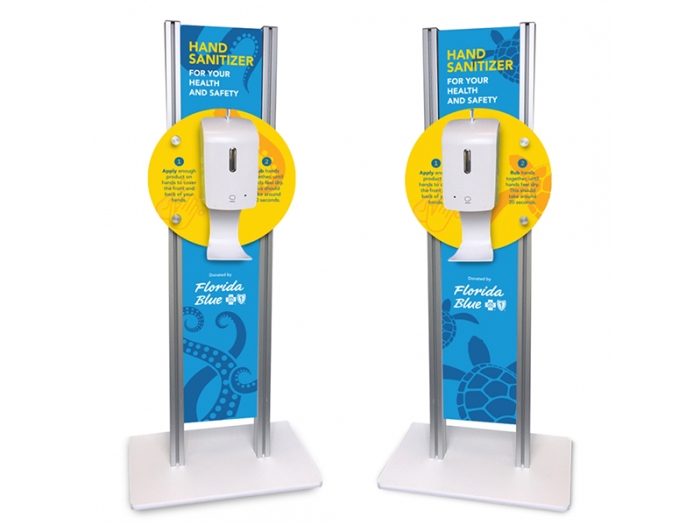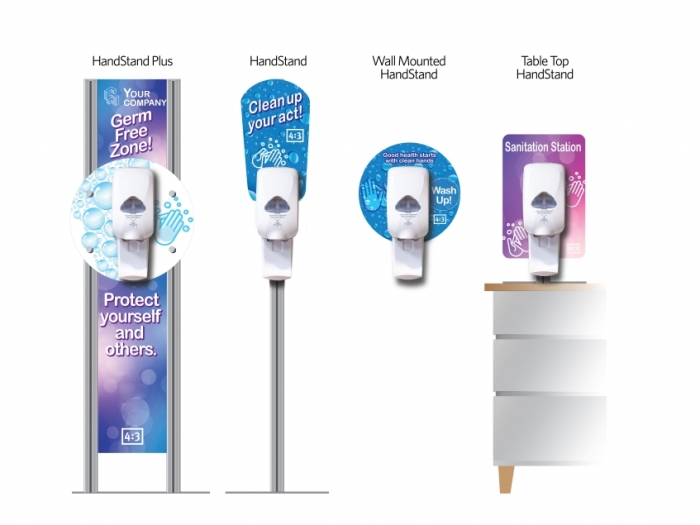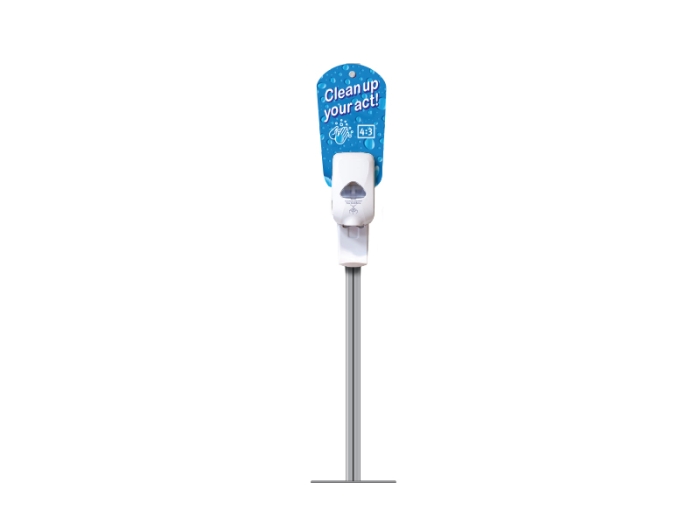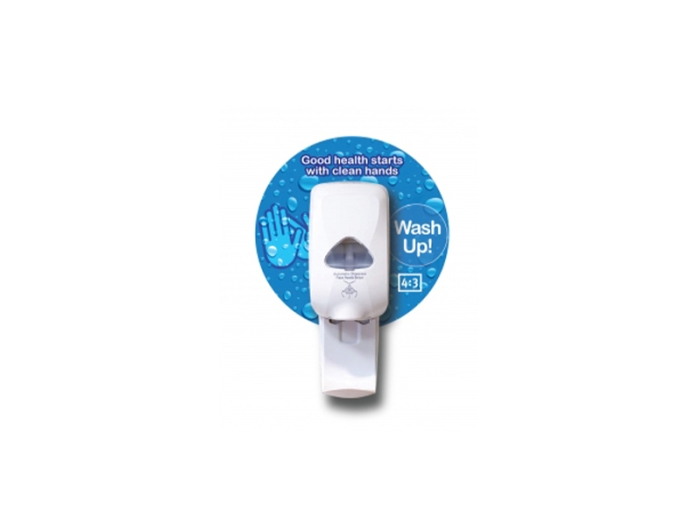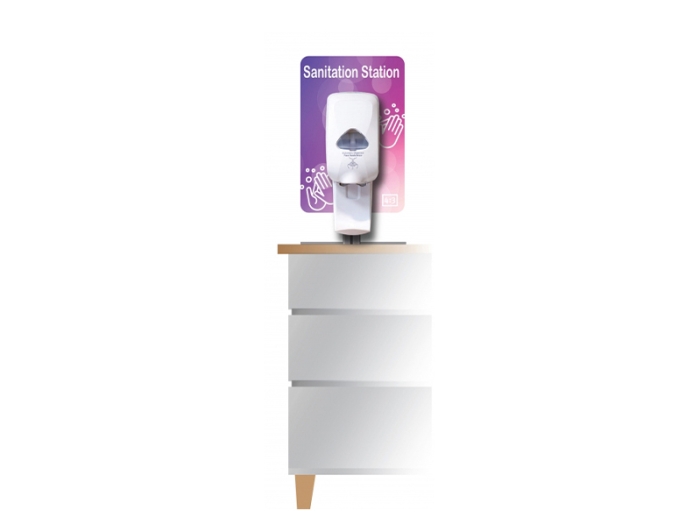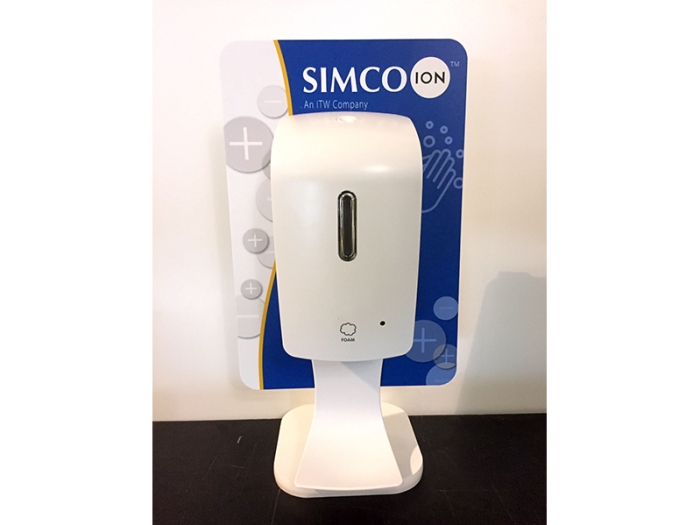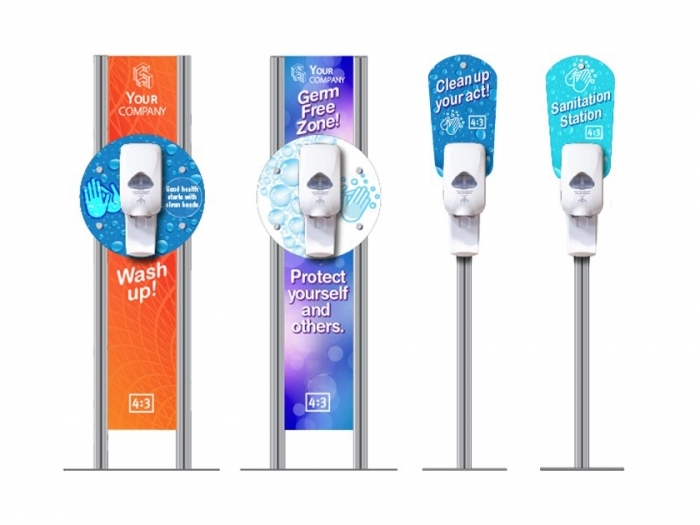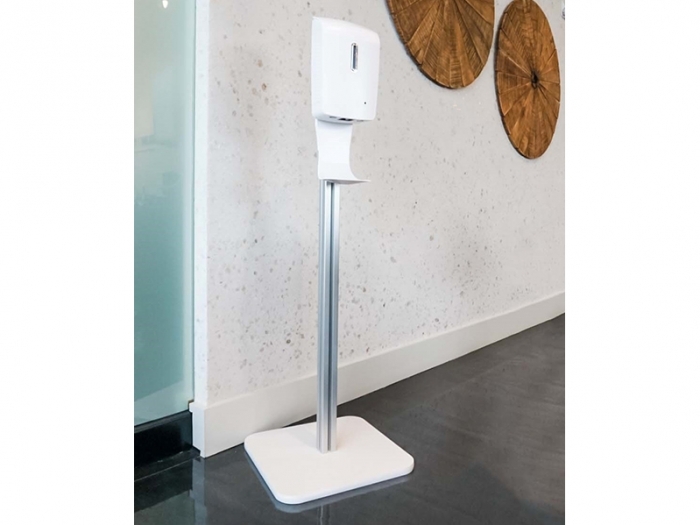 The 4x3 HandStand sanitizing station makes hand-hygiene a breeze at your establishment. This stand is perfect for placement in malls, supermarkets, cafeterias, food courts, schools, hospitals, and any establishment interested in fighting the spread of germs!
Place a dispenser in this stand and communicate that you care about cleanliness. The hands-free, automatic design allows the HandStand to create a station for healthy hand hygiene in any location.
Why Use a HandStand?
Studies show that over 70% of adults still go to work or out shopping when they are sick. That is a lot of germs going around. When offered, disinfectant dispenser get used quite frequently. Encourage the use of a clean and healthy workplace by placing a hand sanitizer station in areas of high-traffic, like in entryways and near the elevators.
The HandStand is lightweight and easy to transport, but the wide and stable base ensures it stays put wherever you place it. The sanitizing station also includes a variety of sizes and models for you to brand with promotional or informational purposes.
Brand Your HandStand
We are offering custom hand sanitizer stations as businesses and offices begin to open again after quarantine. Make hand-hygiene a breeze with touch-free, trouble-free dispensing.
Showcase your business, a corporate sponsor, or local charity on your HandStand. Custom graphics provide a unique hygiene experience for your school, office, fitness center or retail shop. Help your company stay on-brand while also enabling a healthier environment! Each order is custom made to fit your needs.
Healthy HandStand Uses
Store-front standing dispenser for customers walking in and out of your business
Floor dispenser to promote a healthy workspace for office employees
Sanitizer station in a public space when the access to soap and water is limited
Product Features
Works with Many Hand Sanitizers
Freestanding Design, Ideal for High-traffic Areas
Easy to Assemble
Custom Design Available Upon Request
Optional Shipping Case
Lifetime Warranty on Stand Assembly
Limited 1-year Warranty Against Manufacture Defect on Sanitizer Dispenser
Generic Sanitizer Dispenser with 1200ml Refillable Bottle Included
Sanitizer Not Included* (sources available upon request)
Specifications
HandStand Plus
4x3.HS.Plus.1, 4x3.HS.Plus.2 (one or two dispensers)
Height: 60"h
Center Graphic: 18"diam
Base: 20" x 20"
(1) or (2) Hand Sanitizer Dispenser(s)
HandStand
4x3.HS.1, 4x3.HS.2 (one or two dispensers)
Height: 60"h
Top Graphic: 10" x 18"
Base: 15" x 15"
(1) or (2) Hand Sanitizer Dispenser(s)
HandStand Table Top
4x3.HS.TT.R, 4x3.HS.TT.C (rectangle or circle)
Height: 19"h
Graphic: 12" x 18"(rectangle), 15" x 15"(circle)
Base: 10" x 10"
(1) Hand Sanitizer Dispenser
HandStand Wall Mount
4x3.HS.WM.R, 4x3.HS.WM.C (rectangle or circle)
Height: 15" to 18"h
Graphic: 12" x 18"(rectangle), 15" x 15"(circle)
Base: N/A
(1) Hand Sanitizer Dispenser
HandStand Free Standing
4x3.HS.FS
Height: 45"h
Base: 20" x 20"
(1) Hand Sanitizer Dispenser
Artwork Templates
Add-Ons